ATTENTION CUSTOMERS: 
If you are interested in buying a CAT II Q and/or parts, all of our products will now be sold through eBay only.  They are better equipped to handle the ever-changing challenges of shipping, tax collection, and customs regulations.  If you are not an eBay member, not to worry, you can check out as a guest.  They accept various credit cards and PayPal.  Please see all of our listings for  CATS AND PARTS on eBay.

Before you order, make sure of the correct size needed. The diameter of the regular CAT II Q is 1-3/8" (35mm), the smaller CAT II Q is 1" (25.4mm) diameter. The best way to determine your needs, is to place a cylinder, of the same diameter, on top of the glans and see, if the skin tube will roll over it. Also, don't order the smaller CAT, if your measurements indicate the regular CAT.

If you are student and have a .edu or other college associated email address, or you are a U.S. Veteran with proof of service, write to me for further discounts or with any questions you may have.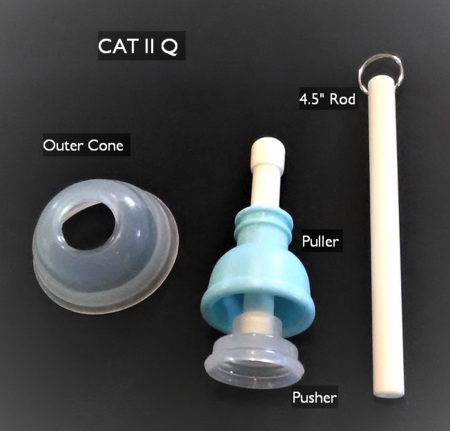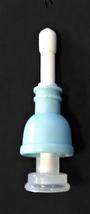 $74.99
CAT II Q - quick tension foreskin restoration aid. Includes: pusher, puller, outer cone, longer rod, shorter rod and metal ring.
       1-3/8" and 1" model available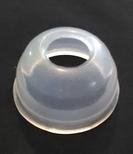 $6.00
Replacement Outer Cone
1-3/8" and 1" model available


$10.00
Replacement Pusher Soft Silicone- Rod attachment is "push fit". A dab of water based lubricant used between glans and pusher, might be beneficial.
1-3/8" and 1" model available

$10.00
Plastic Deep Pusher for advanced users, now furnished with a soft plastic insert to allow for a "push-fit" to rod attachment. These are designed to be used with the Regular Sized CAT II Q.

$20.00
Silicone Deep Pusher - softer, more comfortable, deep pusher, which can be trimmed, if needed. For advanced users and others, who might require a custom fit. Rod is a "press fit" into the pusher. These are designed to be used with the Regular Sized CAT II Q. Note: A dab of water based lubricant applied to the deep pusher, is suggested.

$3.00
Replacement Collet (grab/release device) for the CAT II Q.

$2.00
Replacement Tensioner Rod for the CAT II Q, 4.5 inches.

$13.00
Retainer - can be used with your CAT outer cone or can be purchased with a new outer cone.  Outside of retainer just like the CAT puller, however inside is "straight - thru". Can be urinated thru, at your discretion. Can be worn as a starter or just to keep covered. Will not work as a "CAT Puller".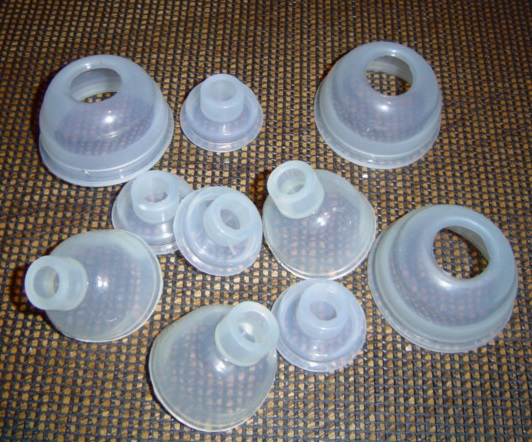 "SILICONE SECONDS"
Offering, at sale price,  CAT regular size (1-3/8"), compatible, silicone "seconds". These parts have probably (1) small defect, such as, a small fleck of charred silicone or a small bubble, molded within. Options include: "outer cone", "regular pusher" and "deep pusher".  While supplies last.